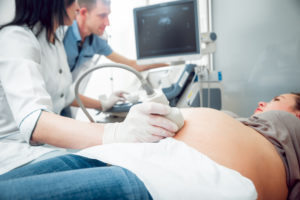 What is Ultrasound?
Ultrasound imaging (also called "sonography") uses high-frequency sound waves to create visual images of the internal body structures. As the sound waves pass through the body, some of the waves are absorbed by the body's tissues, while others are reflected back. The reflected sound waves are measured and displayed by a computer, which then creates a real-time image on a monitor.
What is Ultrasound used for?
Many patients are familiar with the use of ultrasound during pregnancy. However, it also offers several other diagnostic applications. Ultrasound can detect the source of pain or inflammation inside the body and can reveal infection or tumors. It is often used for patients with suspected gallstones. Ultrasound can also evaluate the arteries and veins for narrowing, blockages, or clots.
Pre-Appointment Instructions
If you've been scheduled at our facility, we will call you  a few days in advance to confirm your appointment and to go through a list of screening questions and pre appointment instructions with you.
These questions will ensure that it is safe for you to have a Ultrasound. They are also designed to make sure you are prepared for your exam, that you will know what to expect once you've arrived at our facility, and will also provide you with an opportunity to ask any questions you may have.
Different exams will have their own sets of instructions,  if you are unsure about how you should prepare please give us a call at:
540.431.3600
Below are some general guidelines:
Abdominal/Aorta Limited
Nothing by mouth 6-8 hours prior to exam (Coffee is not allowed)
Renal
Drink 32 oz of water, finish 1 hour prior to exam and do not void
Pelvis
Drink 24 oz of water, finish 1 hour prior to exam and do not void
Double Study Abdomen/Pelvis
Nothing by mouth 6-8 hours prior to exam
One hour prior to your exam please drink 24 oz of water and do not void
OB 1st Trimester (Less than 14 weeks)
One hour prior to your exam please drink 24 oz of water and do not void
OB 2nd Trimester (More than 14 weeks)
One hour prior to your exam please drink 16 oz of water and do not void
Renal Artery
No caffeine for 24 prior to your exam
Nothing by mouth 6-8 hours prior to your exam
Live Doppler
Nothing by mouth 6-8 hours prior to your exam
Where to Check In For Your Appointment
PROVIDING ALL OF YOUR MEDICAL IMAGING NEEDS