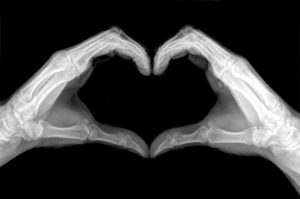 What is General X-Ray
Radiography, known to most people as General X-Ray, is the oldest and most frequently used form of diagnostic imaging. For nearly a century, diagnostic images have been created by passing small, highly controlled amounts of radiation through the human body, capturing the resulting shadows and reflections on a photographic plate.
X-ray imaging is the fastest and easiest way to view and assess broken bones, joints, skull, or spinal injuries. At least two images (from different angles) are taken and often three images are needed if the problem is joint-related (knee, elbow or wrist). These images of the skull, spine, joints and extremities are performed every minute of every day in hospital emergency rooms, outpatient imaging centers, sports medicine centers, orthopedic clinics and physician offices.  General X-ray is also useful to detect and monitor the progression of degenerative diseases such as arthritis. It also plays a role in evaluating the health of the lungs, heart and chest wall. X-rays are helpful in guiding orthopedic surgery, treatment of sports-related injuries, spinal repair, and joint replacements. They are also useful in detecting more advanced forms of cancer in bones, but very early cancer findings require other methods.
Pre-Appointment Instructions
Walk in and same day appointments available.
How to prepare for your X-Ray exam
Most X-ray procedures require no preparation. If you are having an exam that does require some preparation on your part, your provider will let you know. If you would like to know if your X-Ray exam has any pre appointment instructions please give us a call at:
540.431.3600
Please be sure there is no chance of pregnancy before undergoing an X-Ray exam.
PROVIDING ALL YOUR MEDICAL IMAGING NEEDS